Throughout the year, we take the children's pictures. It is also possible that local media will feature our classrooms. Do you give your permission for CBA to use these pictures on our school website, newsletter, social media pages, and school apps? This year, we have only received photo release forms for 27 students.  
Parents, please be sure to update your child's photo permissions using the FACTS Family portal
. It's easy and only takes a few minutes! Here are the steps: 
1. Click on
23-24 Parent Portal
 on the 
CBA website
 (District Code: 
CB-SC
)
2. Select Web Forms > Family Demographic Form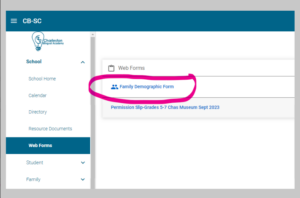 3. Scroll to the bottom of the list to find the "Photo Permission" section and click the button for each child, which will open a screen with Yes/No.

4.  Select Yes or No and click SAVE