It's time for the second annual CBA Mighty Oaks drawing contest! 
The mascot for Charleston Bilingual Academy is the Mighty Oak. Why an oak tree? As we look outside, the oak trees of Charleston remind us of why we do what we do. Their branches spread far and wide, bearing fruit, serving others as they provide shelter and shade. Their roots sink deep, absorbing nutrients and water while at the same time anchoring the tree. And the trunk unites the two, carrying the water and nutrients between the roots and crown, giving support over years of growth. The oak is an astounding picture of the individual we want to see our students become, leaders planted deep in Truth, continually growing, and spreading far and wide in serving others. Isaiah 61:3 tells us that "they will be called oaks of righteousness, a planting of the LORD for the display of His splendor."
Each year we challenge our Elementary and Middle School students to draw a Mighty Oak Tree that will represent CBA for the year. Art pieces must be submitted to the CBA Front Office by Friday, Sept. 29 and will then be judged by a panel of CBA employees. The winner will receive a prize, have their art piece hung in the CBA Hallway, and see their artwork on CBA postcards. (Postcards will be available for purchase) 
Here are the details if your child would like to submit an entry:
Size: 9" x 12" paper
Art Medium: student choice
Date Due: Friday, Sept. 29   Submit to the CBA Elementary/MS Front Office 
Judging will be based on:
Craftsmanship:

The art work has been created with care and shows attention to detail. 

Composition

:

The tree has been carefully thought out and purposefully planned to fit on and fill the piece of paper.

Creativity

:

The art piece submitted is a unique and creative

original

piece, done only by the child.
Please make sure your child's name and grade are printed on the BACK of the drawing.
2022 – 2023 Mighty Oak Winner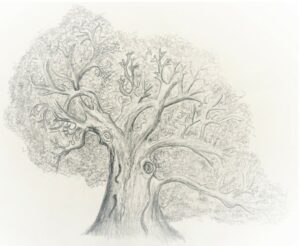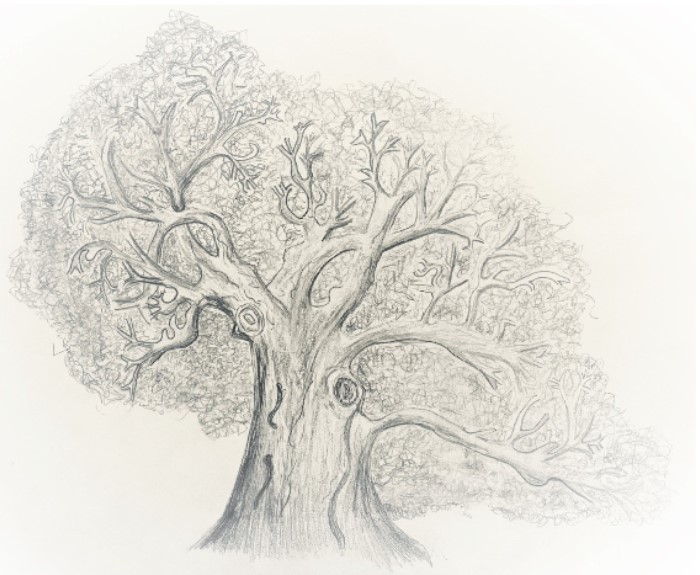 Drawn by Anika Martin, grade 5
Pencil drawing