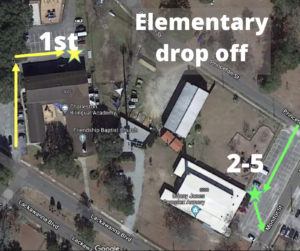 The safety of our students is a top priority for the team at CBA. To that end, we want to make sure the drop off and pick up procedures are clear, and families are alert during this period of the morning and afternoon.
You will find a map of the CBA campus below. There are markers on the map to indicate where students should be dropped off and picked up.  All drivers coming onto the CBA campus and Friendship Baptist Church should enter from Lackawanna Blvd and exit onto Princeton Street.
Students in second through fifth grade will be dropped off at the Armory Park location, which is located at 5000 Lackawanna Blvd.
All other students will be dropped off at Friendship Baptist Church at the locations marked on the chart.
And for a little fun, some of our students and one brave parent ride us through the locations. 
Drop off for students in kindergarten and up begins at  8:05 am until 8:15 am. The preschool day is from 8:30 am until 12 pm.
In order to open up more parking spaces,  teachers and staff will park off-campus at the Armory Park cell tower lot.
We will be adding two "Employee of the Month" spaces in the front of the school for our teachers. We will award the spot each month based on which teachers had the most "call-outs" on Google and Facebook reviews. So please give your CBA faves shout-outs during the year.