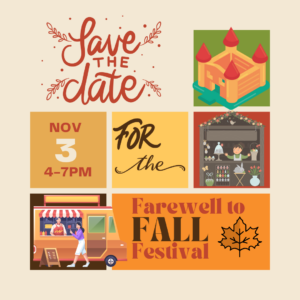 Save the Date!
In lieu of Family Movie Night this year, the CBA PTF will be doing a 'Farewell to Fall Festival' on November 3 (4-7 pm). This FREE family friendly event will have jump castles, food trucks and a CBA vendor market.
VENDOR MARKET at the CBA Fall Festival!
November 3rd from 4 to 7pm
If you have a SMALL BUSINESS, we would love for you to set up a table at our Vendor Market during the Farewell to Fall Festival! It can be a product or service-based business. The event is a great way to support and learn about businesses in our own CBA community.
To register, email Emily Kirby at emilykirby86@gmail.com.
The event will be held at the Oak Terrace Preserve Park at the end of Lackawanna Blvd.